Cutoff Saws
Some operations do not have the space required to operate a gantry saw. Sawing Systems has a solution for these shops in our "B" style cutoff saws. By placing the material on a table car that can be rotated and indexed on the y-axis, a shop owner can use floor space for other functions such as polishing and edging. These units can be equipped with power table cars for automatic indexing capabilities as well as step cutting functions for automating the system in certain applications.
Available Solutions:
541-AB: 24" blade capacity with up to 12' of travel
511-B: 36" blade capacity with up to 12' of travel
521-B: 72" blade capacity with up to 12' of travel
Custom Built Units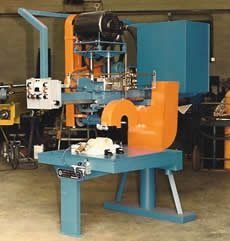 We also offer custom cutoff saws with built in table and clamping systems. These units can be set up to set up as well as be equipped with coolant collection tanks, paper bed filtration packages, as well as pumps for recirculation. With blade size from 12" to 36", these units can be set to fit your specific products. They can also be outfitted with hydraulic blade motors as well as tilting arbors for cutting miters. Contact our sales staff for more information on your options and on units that we already have designed. We can be reached Monday thru Friday from 8am to 5pm eastern time at 1-865-525-0600.