Tile Sawing Lines
Adjustable from 8" to 24", our saw lines can be customized to fit your production requirements and product specifications. By working with Sawing Systems, you can ensure that the equipment will operate to your expectations. We will take the time to discuss with you the needs of your company and tailor the equipment size and level of automation so that it is a perfect fit for your company and its employees. We even can consult with your company's engineers to ensure that our line will deliver your product to meet your customer's expectations in tolerances and squareness.
By pushing the material through parallel blades, your product is processed in the most efficient manner possible.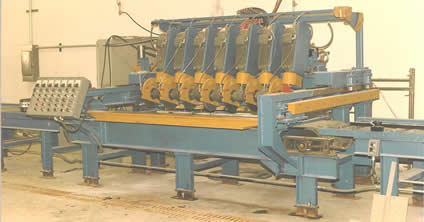 Simultaneous cuts will ensure that your product is cut parallel.