Stone, Block and Tile Calibrators
Sawing Systems has designed and built many calibrating units ranging from 12" to 72" in capacity. With height capacities ranging from .125" to 16", Sawing Systems can build a unit around your product's specific size requirements. As with any of our product lines, these machines can be built to accommodate even the most unique process. Wether you are processing stone, blocks, or even stair treads, Sawing Systems can build a calibrator that will gauge the top (and even side) to the tightest tolerance. Our custom engineering projects have included developing alternate belting options along with vacuum hold down systems that have allow our customers to process even the thinnest materials without the worry of compromising the finish due to tile movement. Contact our sales staff today to learn more about what we have to offer.
Featured Machine: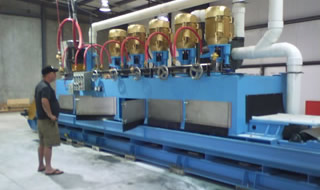 Sawing Systems' 444 Tile Grinder is capable of handling tiles as thin as .125". Built with a vacuum hold down system to keep movement from compromising the finish, this processing unit was specialty built for terrazzo material. With the proper number of heads, we can custom build a unit that will take your tile from a raw product to a finished hone or polish. Contact our sales staff today to learn more.