Bridge Saws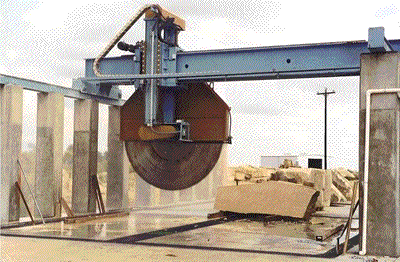 Sawing Systems has been building bridge saws for over 25 years. In this time, we have learned the principles for delivering the maximum amount of torque to the blade for the highest production rates available from the blade. From countertop materials to blocks up to 5'-6" thick, we have a cutting machine for your natural stone operation. We also have CNC controlled sawing applications that we offer to countertop shops and for specialized applications.
We work closely with blade manufacturers to ensure that your machine is set up for your exact material and the blade that you choose to buy. When you work with Sawing Systems, you have the piece of mind that your machine will fit not only your material, but also the tools that you use to process them. At the time of order, we will work with your blade manufacture to make sure that the blade RPM's and torque requirements are met to ensure maximum productivity.
We are a custom engineering company that specialized in the stone and concrete industries. If you do not see a machine on this site that fits your needs, please contact our sales department to discuss your options in having a machine built for your exact application. Our engineers specialize in process development from start to finish in natural stone businesses. We can develop a single machine to perform a specialized process or an entire fabrication line to process your raw block into a finished product. Contact our sales staff at 1-865-525-0600 for more information.
Available Models: