Custom Job Portfolio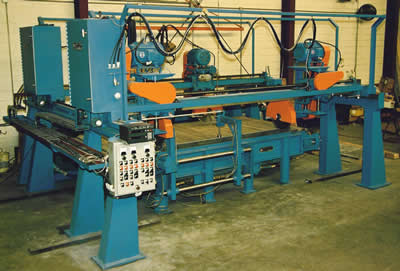 Sawing Systems offers custom design services to our entire client base. From 8" ripping saws for product specific applications to a 600HP multiplex saw that holds thirty 64" limestone blades, Sawing Systems' engineers have put our decades of experience to use developing the most powerful, highest quality equipment available. Our engineers specialize in process engineering and offer turnkey, integrated systems that include, but not limited to, the following:



- Sawing machines of all sizes and configurations.
- Calibration equipment.
- Finishing/Surfacing equipment for blocks, tiles or slabs
- Material handling units such as:

* Various material tables
* Roller conveyors
* Belt conveyors
* Wood slat conveyors
* Specialized units such as compression or waste removal systems
* Turn over units
* Rail cars and table cars for moving large units


Auxiliary System Designs:
- Water filtration system integration
- Dust collection systems for dry cutting and grinding applications
- Vacuum mixing systems for degassing epoxy mixtures
- Remote location control and diagnostic systems
- Custom tooling design and manufacturing
Custom Fabrication Line
Feel free to take a look at a few of our past jobs for an idea of what our capabilities are. Our sales staff is available Monday through Friday from 8am to 5pm eastern to answer your questions or to provide a process consultation for your unique product. Give us a call at 1-865-525-0600 for more information.